Thursday 11 February 2016 – hours 20.30
About 4.30 on Monday 11 February 1963 Sylvia Plath She puts her head in the oven, after sealing with a wet towel the door that separated the kitchen from the bedroom of her two children. It was thirty years and was the most extraordinary and innovative poet of the moment in English.
On the same day thirty-three years later he was thrown from his silent attic window, a few steps from Piazza Navona, Amelia Rosselli. He sixty-six years, It was the most important Italian poet, and had translated the Plath with perfect rendering of two souls equally injuries and little understood. Both had suffered throughout their lives different interventions electroshock.
Twenty years after the death of Rosselli, Thursday 11 February 2016 all 20,30 Gallery Space Testoni Via D'Azeglio 50 Bologna is pleased to host the evening "In the moon's smithy", special event included in the fourth edition of Bologna Festival of Arts Layering - Arts / factscontemporary, This year right on the figure of Rosselli focuses. It will be an opportunity to retrace the mighty works of two authors, draw matches, identify recurring elements. In the knowledge that those who open slopes no jokes often pays the extreme.
They will read, comment on the text and will discuss with the audience Rita Bonomo, LoredanaMagazzeni, Maria Pia Quintavalla and Maria Luisa Vezzali.
Rita Bonomo. author of performative poetry and theater. Mesmerized by "attitadoras" (mourners) and oral poets, who knew as a child, He argues that poetry can find fulfillment in the oral restitution. The language it to its rightful, since the beginning, It is to the drama of the text, often accompanied by audio-visual material and collaborations with several coats: authors, musicians, artists. Public in anthologies and magazines as a writer and editor. As a co-author is in the "RIE, metalogue three voices ", "Women-(Don)and the (Born)months "the essayist Enzo field that deals with the poem in his essay" Gestures of air and light duties ". His most significant work is Dìri dìri Danna, collection of poetry-theater.
Loredana Magazzeni (Pescara, 1957) He lives in Bologna, where he teaches and is involved in poetry and translation. He published collections The miraculous wound, 2001, Canto mothers and other songs, 2005, Fragility of good, 2011, I wanted to be Jeanne Hebuterne, 2012. He edited, with Andrea Sirotti, anthology Cats like angels. Eros women's poetry in English language (Medusa, 2006), the collection of poems Sally Read Breaking point (The Happy Life, 2013), Fiorenza Morman, Brenda Posters and Anna Maria Robustelli body. The body in contemporary women's poetry in the English language (The Voices of Poetry Moon, 2009). It is part of the '98 Group Poetry Association and The Voices of the Moon.
Maria Pia Quintavalla (Parma 1952) He lives in Milan. His first book singing simple It comes in 1984 for Tam Tam Geiger editions (note with Nadia Campana). In 1985 He begins to treat the national biennial Women in poetry, from which it was born the eponymous anthology. Poet and novelist, also he deals with literary criticism and works with the University of Milan. She is the author of numerous volumes of poetry: among the last, Selected poems (Resources, New York 2008), China. A Brief History of Gina between the city and the plain (Effigy Editions, Milan 2010), The Pietas (Effigy Editions, Milan 2013). Care seminars and workshops on the Italian language and the poetic text at different institutions, including the archives of the '900, Free University of Women, Humane Society of Milan, National Festival "Women in poetry", AND THEY ARE (Institute of Humanities), "Poetics". His lyrics prestigioni have received awards and been translated into several languages: English, Romanian, Serb Croat, Spanish, French and German.
Maria Luisa Vezzali (Bologna 1964) He is a translator of Adrienne Rich and Lorand Gaspar. He edited an edition of Saint-John Perse, Anabasi (Raffaelli 2011). In poetry published The other eternity (Laboratory Issues 1987), Eleusi marina (in "Third Italian notebook" by Franco Buffoni, Guerini e Associati 1992), ten in one (Eidos 2004, with drawings and sculptures Mirta Carroli), lineamadre (Donzelli 2007, Award Anterem / Montano), implicit form (Allemandi 2011, with jewelry and drawings by Mirta Carroli). His books are translated into English, Spanish, French, German and Swedish. It is part of the association Voices of the Moon.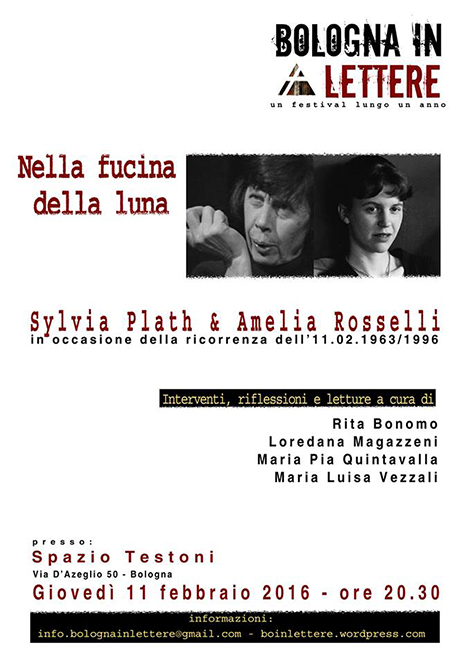 CURRENT EXHIBITION
DEEP DOWN INSIDE THE COLOR, double solo Ingeborg zu Schleswig-Holstein and Ester Grossi, an exhibition organized in collaboration with the Berlin Werkstattgalerie, which is part of the Art Circuit City - White Night at Art Fair 2016.
Following collaboration unperiodo within Andy Warhol's Factory,Ingeborg zu Schleswig-Holsteininizia to exhibit in New York in the early 80s and then follow numerous other exhibitions in America and Europe and recently in China. Now back to Bologna to one year from exposure to Cube Unipol. Made of jets and flows of oil color on canvas, his gestural painting in this exhibition communicates with rigorous interventions pictorial graphics daEster made directly on the gallery walls Grossi, Prize finalist Cairo 2012 and whose works submitted from Testoni space Art Fair 2015 the designer Julia Marani was inspired for his latest spring-summer collection 2016.
The exhibition focuses on the emotional power of color excluding the figuration, creating in the four rooms of the gallery a different chromatic harmony.
The exhibition will remain on show until Saturday 26 March 2016