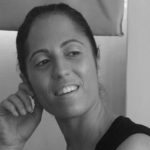 The work of Maria Rebecca Ballestra is based on the reprocessing and reinterpretation of social issues, political and environmental codes and synthesis of ethno-cultural learned during numerous artist residencies carried out in countries geographically and culturally distant. The trip is his main source of inspiration: reflection on the history, on ancient traditions and customs of different countries of the world today are a tool to relativize the cultural differences that divide men, to escape from the Eurocentric perspective and to offer its partners find new ways of active and critical.
The works of Maria Rebecca Ballestra often arise as a project site and context specific and you need space that welcomes them to enhance their communicative and emotional. The issues to which the works are inspired are strong, complex and current. The themes that are reflected linked to double as an emblem of the circularity of the eye, eco-sustainability and pollution and, more recently, to post-umano, the border between Nature and Science and between natural and artificial. His latest production, in fact, is geared towards the perception of the future in relation to climate change and the many human interventions in the natural environment and the sense of insecurity and anxiety that characterizes this new millennium.
Recent Exhibitions:
2012
Traveling project in 12 tappe nei cinque continent Journey into Fragility (www.journeyintofragility.com), promosso ADAC (Archive of Contemporary Art, University of Genoa), Kalart (Switzerland), Alberta Pane Gallery (France), Maqroll (Italy) and Ramdom (Italy), Meta-architectures gallery space Testoni Bologna (Italy), The Art reveals the fragility of the Earth Gallery Quattrocentometriqudri Ancona (Italy); Centenario Docks Dora, cultural event organized by SAL - Space AdLbitum to celebrate 100 years of Docks Dora – Rolli Days,Tobia Pallavicini Palace (Genoa), presented by UnimediaModern Gallery.
2011
Changing Perspective, series of solo exhibitions, installations and site-specific projects curated by Paola Valenti in collaboration with Alessandra Dishes and Daniela Legotta (Genoa): Post Human Garden - Museo d'Art Villa Croce Contemporary , Eyes on Asia - Museum of World Cultures Castello d'Albertis , The Weight of the Human Being, Sala Dogana di Palazzo Ducale , The Future is near. The Future is now! Gallery UnimediaModern, There's plenty of room at the botton, Genoa Port Center
Al Ghaib Aesthetic of the Disappearance, Maraya Art Center (Sharjah – UAE) – Stux Gallery (New York – USA) curated by Gaia Serena Simionati, Art Price Duchessa di Galliera, 2011 – 1956, A path between the contemporary language in Liguria, Contemporary Art Villa Croce Museum (Genoa –Italy) curata da Anna Lercari