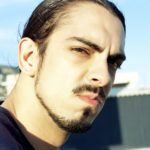 ALAN MAGLIO è nato nel 1979 a Milano.
From 2000 to the 2004 He accomplishes the educational studies in graphic design and photography at the C.F.P. Bauer from Milan, among teachers: Roberta Valtorta, Mara Campana, Francesco Jodice, Roberto Marossi.
In 2003 his project "Milan, Africa"It is selected for the ninth edition of the photographic prize" Riccardo Pezza "and exhibited at the Milan Triennale.
In 2004 He is invited to participate in Milan the exhibition of young artists "Assab One 2004"And in collaboration with Gabriele Fish realizes the photographic project"African portraits". With the collective Zapruder (including Francesco Jodice, Maki Gherzi, Meris Angels) participates in Modena to the public art festival "Going Public 04". Opened her first solo exhibition entitled "Moving Identities"Placentia at the Art Gallery of Piacenza, for the occasion realizes with Gabriele Pisces the video installation "In Da Club".
In 2005 It is present in Milan at the fifth edition of "No Parachute", artistic happening at Artandgallery, and the monthly review "Ottofotografialfoyer", at the Teatro Franco Parenti. It is also invited to participate in the exhibition "Photo&Photo"Cesano Maderno, where he had the opportunity to meet photographers Douglas Kirkland and Jonathan Torgovnik.
In 2007 his first film "Milano Centrale – Stories from the Train Station"It is selected for the 17th edition of"African Film Festival, d'Asia e America Latina" from Milan. The film is then presented also in the circuit of Italian and international film festivals with screenings in Milan (House of World Cultures, "Social fragments"Triennale, "Docucity"), Parma, Ancona, Madrid (Festival International de Cine "El Ojo Cojo"), Amsterdam (Weekly Film Screening at Joe's Garage). Moreover, "Milano Centrale" is being shown on various educational initiatives at different levels, in class workshops in primary schools, middle and high schools; It is the subject of a lecture within the Visual Anthropology Course held by Professor Ivan Bargna at the Universita 'di Milano Bicocca. The film is mentioned in the essay "Milano Films 1896-2009 - The city 'told by the film"Marco and Mauro Raimondi Palazzini, published by Frilli Brothers Publishers.
In 2010 presents "Stories of Darkness And Light"In a solo exhibition in Milan at the" House of World Cultures "; it is a photographic project in Japan that becomes a self-titled book in a few copies in its first edition. A selection of these shots wins the first edition of "Brand New Talent"And it is published in"Rear View Mirror", photography Italian magazine published by Postcart. E 'invited to the festival "Social fragments"At the Triennale di Milano and participates in important collective exhibition"Migrants bodies" at African Museum Verona, realized with the support of the Africa Foundation Onlus and later brought in several Italian cities. He holds several photographic workshops for classes of students.
In 2011 He participates in two important group exhibitions: "Unexpected guest", at the studios of Tamango Films in Buenos Aires, e "Artist invites artist", at the "Centre d'Art - Villa Eugenia" Valencia. An image from the series "Stories of Darkness and Light"It is selected for the group show"Kokoro"Camera16 the gallery in Milan. Le series "South of Heaven" e "Old Skool"They are published on"Pizza", Italian magazine of art and fashion at the international spread. Laundry inaugurated in Milan at the bi-personal exhibition "Fear of the Dark", in which mixes its recent production together with shots of Guus Helms, Amsterdam Dutch photographer.
From 2006 forward his works are published in various national and international journals, among which Art, Flash Art, Slurp, Rear View Mirror, Mix, Nigrizia, Pizza. He has worked with various photographers and artists including Francesco Jodice, Marcella Vanzo, David Blliano, Alessandro Tinelli, Elizabert Aro, Guus Helms.