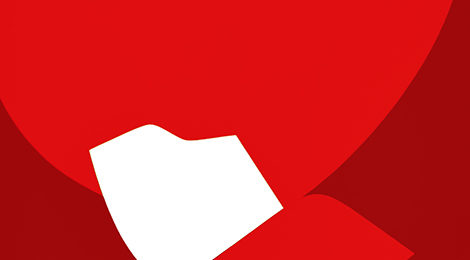 PRIVATE GALLERIES IN THE CITY
Association Art Galleries Ascom Bologna Art Fair 40
ART FAIR 2016, Bologna
29.01 – 01.02.2016
Pad. 26 Stand B96
SPACE Gallery TESTONI Bologna
ESTER GROSSI
The gallery SPACE TESTONI It is directed by Paola Veronesi Testoni and works in Bologna in Via D'Azeglio 50 the year 2006
The exhibition of the gallery is mainly oriented to investigate the artistic expressiveness on the most relevant cultural themes, social, economic and environmental aspects of contemporary life, with a specific research activity mainly based on the presentation of young artists.
The work presented for the collective exhibition of the Association Galleries of Modern and Contemporary Art - ASCOM Bologna on the occasion of the 40th edition of Art Fair has been specifically designed to Ester Grossi (Avezzano - L'Aquila, 1981), who freely reinterpreted the historian of acrylic on canvas gallery logo. 100×80, by title "Red Space Testoni", year 2016, in honor of the tenth anniversary of the gallery (04/01/2006 – 04/01/2016).
ESTER GROSSI
Born in Avezzano (AQ) in 1981. After graduation in Fashion, Design & Decor, He obtained a degree in Cinema, Television and Multimedia Production at the University of Bologna. He has dedicated years to painting and has made several exhibitions in Italy and abroad; she won the Italian Factory Award 2010 and Prize finalist Cairo 2012. As an illustrator has created posters for film festivals, music and theater, cover of the international band album; frequently collaborates with musicians and video artists for the realization of its multimedia projects. For several years he exhibited at the Gallery Space Testoni Bologna, in Art Fair 2015 He presented it in Solo Show with the project works Lumen, which he was inspired by the designer Julia Marani for the realization of his collection Sunrise SS 2016.
From 23 January to 26 March 2016 His pictorial interventions made directly on the walls of the Gallery Space Testoni dialogue with the great works of Ingeborg zu Schleswig-Holstein in the double solo Deep Down Inside the Color, exhibition organized in collaboration with the Berlin Werkstattgalerie, which is part of evnti of Art City-Art White Night 2016.