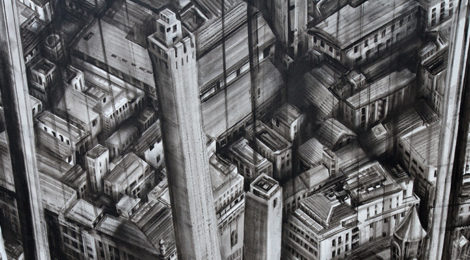 SPACE TESTONI's HISTORY
# 1 - HUMAN PLACES - Places Human
Philip Centenarians Ulrich Egger Andrea Francolino
Fabio Giampietro James Kalinda Alan Maglio
Bologna Via D'Azeglio 50 SEPT 14 – OCT 12/2019
www.spaziotestoni.it
Saturday 14 September 2019 Gallery SPACE TESTONI reopens after the summer break with a first collective exhibition of works by artists who presented in the course of his 14 years of activity within its historic headquarters in Via D'Azeglio 50 a Bologna.
SPACE TESTONI's HISTORY # 1 - HUMAN PLACES - Places Human, allow visitors to review some of the works that have been presented by SPACE TESTONI in solo, solo and group exhibitions, of Philip Centenari, Ulrich Egger, Andrea Francolino, Fabio Giampietro, James Kalinda e Alan Maglio, that have as their theme that unites places where focus, establishing new or encounter humans, whether real places, historical or contemporary, but also virtual or purely financial, as well as the expression of these artists have represented them with different techniques and perspectives of observation.
The choice of this theme has also been specially designed in homage to 5Th edition of BDW – Bologna Design Week - from 23 to the 28/09/2019 This year's Red string The city of wonders, on the occasion of CERSAIE the International Exhibition of Ceramic Tile and Bathroom Furnishings in Bologna Fiere.
Testoni Space has also joined the 15° Contemporary Day which will take place Saturday 12 October 2019, day of finissage This exhibition will celebrate together the public and the artists.
Info:
Gallery
SPACE TESTONI
Via D'Azeglio 50 -Bologna - Italy
Such. +39 051371272 – 051580988
Cell. +39 3356570830
info@spaziotestoni.it – www.spaziotestoni.it
Opening time:
Tuesday to Friday 16,00 -20,00
Saturday 10,30 – 13,00 and 16,00 – 20,00
Sunday, Monday through other times by appointment