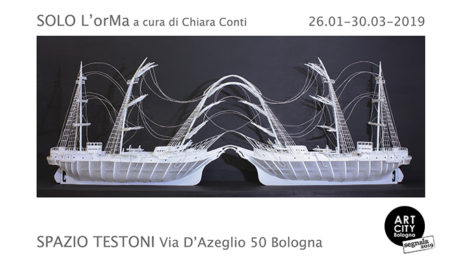 Inauguration
Saturday 26 January 2019 from 18,00 all 20,30
ONLY Footprint It is the second solo show at Gallery SPACE TESTONI artist Bologna (Lorenzo Mariani, Art in the footprint, Milan 1985), and in collaboration with the gallery since 2011, He was the winner of the Premio Euromobil Under 30 in Art Fair 2016, winner of the Prize Arteam CUP 2016 with a subsequent staff at the Space Cube ART Unipol Bologna in 2017 and in 2018, for its unique and multifaceted expressiveness, He was chosen by the Commission of Science in Contemporary Art Phenomenology of the University of Bologna for the Master's Thesis entitled "footprint EMERGING ARTIST IN ITALIAN PANORAMA" Chiara Conti, curator of this exhibition that will open the 26 January 2019 during Art Fair and will remain on display until 30/03/2019.
The exhibition is part of ART CITY during Art Fair 2019
ORMA (Lorenzo Mariani), è nato nel 1985 and lives and works in Milan.
In 2007 he graduated from the Academy of Fine Arts of Brera, and becomes the assistant of the artistic couple vedovamazzei.
Enters the contemporary art scene exposing at various art galleries, public and private entities and winning selection in various prestigious competitions of contemporary art as a finalist and in many cases as overall winner.
In 2011 It was commissioned by the Region of Lombardy a large sculpture of the theme proposed by Representative EXPO 2015 (visibly staying at the new complex of high-rise headquarters of the Region).
Artist, ranging from traditional painting, to sculpture, installation, manual actions on photography, of leaves and other natural essences, the art of ceramics and finally on paper, creating more unique and original works for his visual cut, who manage to surprise the viewer, as well as for the thematic, also for its execution capabilities in technical safety in every discipline and with almost manic embodiment perfection.
Presented for the first time in Bologna in the Gallery Space Testoni 2011 for the "Default" by Alberto Mattia Martini, then to follow in other solo and group exhibitions inside and outside the tunnel and in important exhibitions in Italy and abroad.
Info:
Gallery
SPACE TESTONI
Via D'Azeglio 50 – 40123 BOLOGNA
Such. +39 051371272 – 051580988
M. ph. +39 3356570830
info@showever,ziotistoni.it
www.spaziootestoni.it
Hours:
Tuesday to Friday 16,00 | 20,00 - Saturday 10,30 | 13,00 and 16,00 | 20,00
Sunday, Mondays and other times by appointment
Special opening for CITY ART during Art Fair 2019:
Friday 01/02/2019 from 10,00 all 20,00 nonstop
Saturday 02/02/2019 from 10,00 all 24,00 nonstop – ART WHITE NIGHT
Sunday 03/02/2019 from 10,00 all 20,00 nonstop
FREE ENTRY
---
---
READ THE ARTICLE OF BLACKS ON EUGENIA EXIBART:
http://www.exibart.com/notizia.asp?IDNotizia = 60971&IDCategoria = 204
---