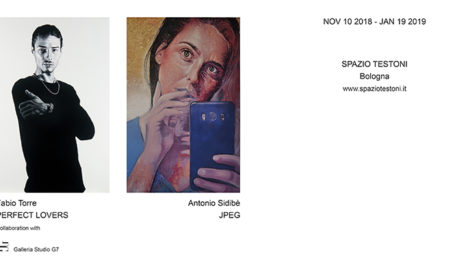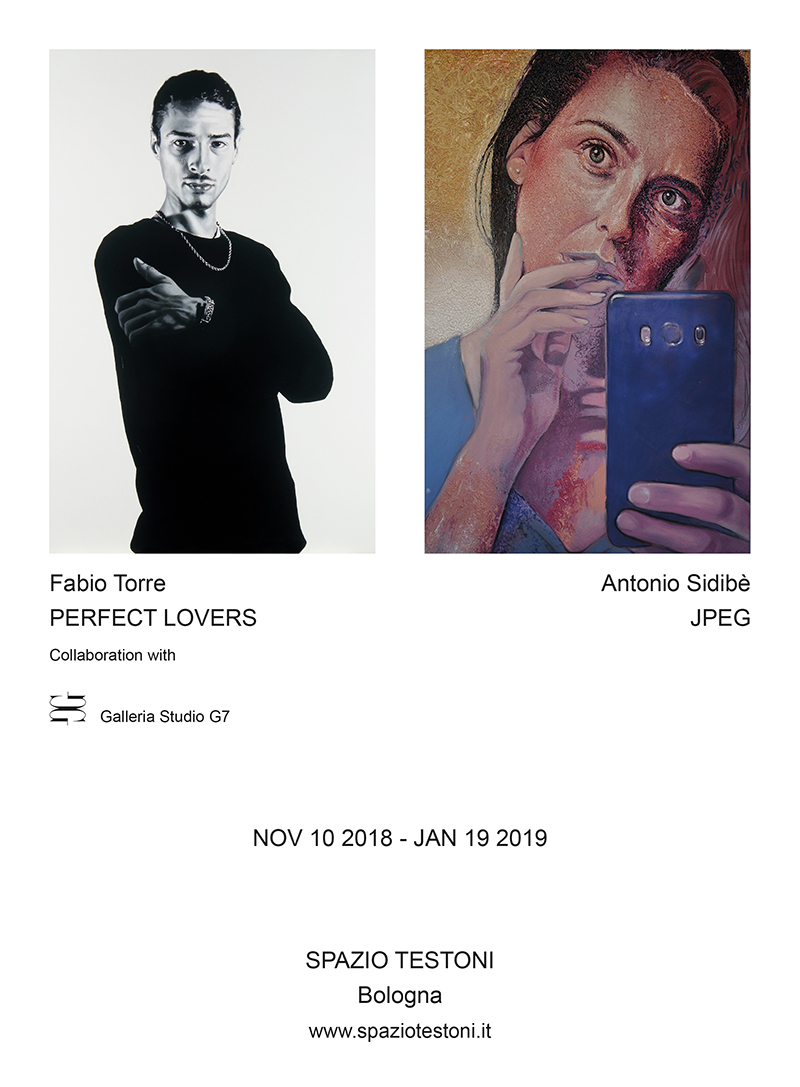 PERFECT LOVERS Fabio Torre
in collaboration with Gallery Studio G7
and
Antonio Sidibè JPEG
The exhibition consists of two solo exhibitions with relevant securities, different themes and expressiveness, that only in the first room of the gallery have a moment of dialogue and then develop each separately in the following rooms.
The encounter between the two artists, totally random, It took place the opening durations of prior exposure to the Galleria Spazio Testoni, thanks to the unique expressive research Fabio Torre, artist who for many years worked with the Galleria Studio G7 from Bologna, He instinctively chose to photograph subjects that very often does not know, but hitting his imagination, then play them in his unmistakable pictorial representations in black and white. In the evening the subject chosen by Fabio Torre was Antonio Sidibè, artist that Testoni Space Gallery presented for the first time in Bologna in 2014. From this meeting came the idea of ​​this their double exposure, which will remain on display until 19 January 2019, and also the first collaboration between the two Bolognese galleries Gallery Testoni Space and Gallery Studio G7.
With the project Perfect Lovers the artist from Bologna Fabio Torre He continues his research in the field of contemporary portrait, after two episodes of last year with exhibitions Perfect Day the Galleria Studio G7 in Bologna A Contemporary Glance the Clampart Gallery in New York.
In this exhibition presents Fabio Torre oils on canvas or on paper executed between 2017 and the 2018. In opening, a double "portrait" of a camera Hasselblad, which over the years has become a kind of logo in the pictorial reflection of Torre on "places" of photography, It introduces the theme of the double which will be developed in the second room. In the first room they are presented individual portraits of three different males in size and the same we find them a little later in the second room in portraits "double": their face is caught as in two consecutive frames, with slight deviations or laying of fire. The poses and technique recall - as always in the tower work - in the world of analog photography in black and white which offer technically accurate images, but in the same time synthetic and essential.
The double himself, theme often explored in art history, It is now proposed without the artifice narcissistic and solipsistic mirror and indeed, with an opening to the viewer, that not without a bit 'of ambiguity, It is involved in this dialogue between "perfect lovers".
The title of the exhibition has a debt of gratitude to Perfect lovers The Felix Gonzales-Torres, the famous opera composed by twin synchronized clocks.
Fabio Torre was born in Bologna in 1955. He lives and works in Bagnarola Budrio.
Over the past two decades he has authored more than thirty solo exhibitions in public and private spaces in Italy and abroad. His work has appeared in numerous group exhibitions in galleries and museums. He published in 2009 the book "Patti Smith - Simply a Concert".
The cycle of works JPEG of Antonio Sidibè It born from digital. The artist seeks a dialogue between technology and painting techniques making them together into a single poetic. This research investigates the relationship between the use of images in jpeg spasmodic as iconographic quality and self-timer (selfie), and technological means, It now consistently supports in daily. In these works, by the use of oil and spray, pictorial matter becomes visual grid that allows him to enter scientifically dissonant colors and fluorescent, recreating the image "hyper-" generated by contemporary communication tools, that impose new expressive methods and new lifestyles. The crosslinked material becomes a means of interpretation and media of a pictorial concept and iconography ideal that approaches the pixels becoming generative element and at the same time disturbing image, then made glittering, as reflected by the screen of a smartphone, through the use of TW, (Titanium White).
The TW is a particular white color that comes with the light and is the color that comes closest to pure light, Sidibè with which intervenes on the pictorial surface generating a filamentous material that redefines the pixels, but by drawing white lines, as picture negation resulting interrupted. The canvas becomes like a monitor and work, conceived as site-specific, to a lateral vision allows the observer to perceive it as a monochrome white light wall, shining outside of the canvas itself, while at a frontal view, the observer will have a pictorial work iconographic reading and its contents.
Antonio was born in Florence in Sidibè 1986. He lives and works in Viareggio.
Among the major exhibitions: JPEG (Space Testoni, Bologna, 2018/2019); Artistic Residence MICHELANGELO RELOAD edited by A. Romanini (Visual Arts Center Pietrasanta, 2018); Ambra13 # CosasuccederàAllaRagazza (Clouds of Contemporary Art, Montesarchio 2018), Mathilde memory (Correggio Museum, Palazzo dei Principi, Correggio 2015/2016), Again! (Space Testoni, Bologna, 2014/2015), "Opera Prize" (Cloisters of the Oriani Library, Ravenna, 2013), artists' rooms (Biblioteca Angelica / Angelica Gallery, Rome Gallery Russian, Roma 2012), Personnel / Special event for Vogue Fashion's Night Out (Russo Gallery, Roma 2012), "Italian Academy" (catalog academy care of Fine Arts of Brera, Pinacoteca Albertina, Torino 2012), "The Cutting Edge" 54th International Art Exhibition of the Venice Biennale (Pavilion Academies, Arsenal 2011), Seven Rooms In Pietrasanta (Palazzo Panichi, Museum Barsanti, Pietrasanta), LX Rassegna Internazionale D'Arte/Premio G.B Salvi (Palazzo della Pretura, Sassoferrato, a cura di Mariano Apa 2010).
Tra il 2012 and the 2018 partecipa a fiere d'arte, tra le principali: Swab Barcellona, ArteFiera Bologna, ArtVerona, Art Factory Catania, Contemporary Istanbul, Immagina Arte in Fiera Reggio Emilia.