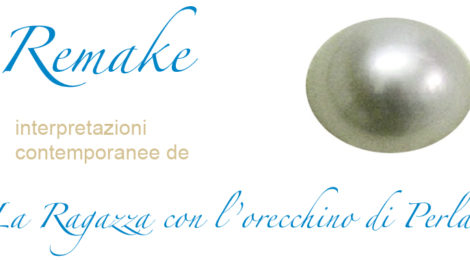 Sunday 09 February 2014, from 16 all 20, TESTONI SPACE Gallery in Via D'Azeglio 50 a Bologna, inaugura la mostra collettiva REMAKE interpretazioni contemporaneede "The girl with the Pearl Earring".
24 Artisti invitati dalla galleria, molti dei quali saranno presenti all'inaugurazione, presentano altrettante opere liberamente ispirate al famoso dipinto di Jan Vermeer (Delft, 1632 – Delft, 15 December 1675), dal titolo originale "La ragazza col turbante":
Omar Galliani and his pupils in residence at Canossa: Antonio Sidibé, Catherine Sbrana, Dellaclà e Matteo Tenardi, with the artists Space Testoni: Albano Morandi, Andrea Francolino, Andrea Mazzola, Caroline Le Méhauté, Ester Grossi, Fabio Giampietro, Federico Galli, Giovanni De Race, Giovanni Sesia, Ivan Tresoldi, ORMA, Luke Guenci, Mataro from Vergato, Maurizio Osti, Melissa Provezza, Paolo Troilo, Ulrich Egger, and two new proposals: Eldy Veizaj e Gruppo Aris.
The exhibition will remain on display until 29 March 2014.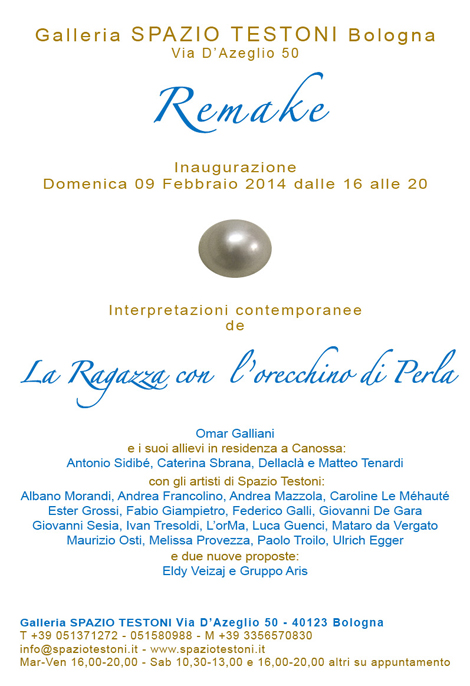 Click on the names of the artists, to view the cards of the works on display:

Omar Galliani
Antonio Sidibé
Catherine Sbrana
Dellaclà
Matteo Tenardi
Albano Morandi
Andrea Francolino
Andrea Mazzola
Caroline Le Méhauté
Ester Grossi
Fabio Giampietro
Federico Galli
Giovanni De Race
Giovanni Sesia
Ivan Tresoldi
ORMA
Luke Guenci
Mataro from Vergato
Maurizio Osti
Melissa Provezza
Paolo Troilo
Ulrich Egger
Eldy Veizaj
group Aris