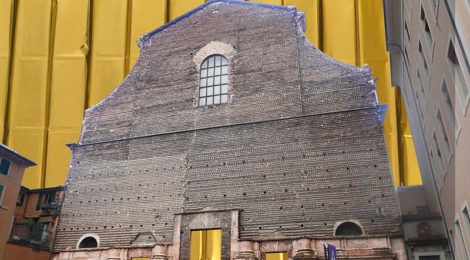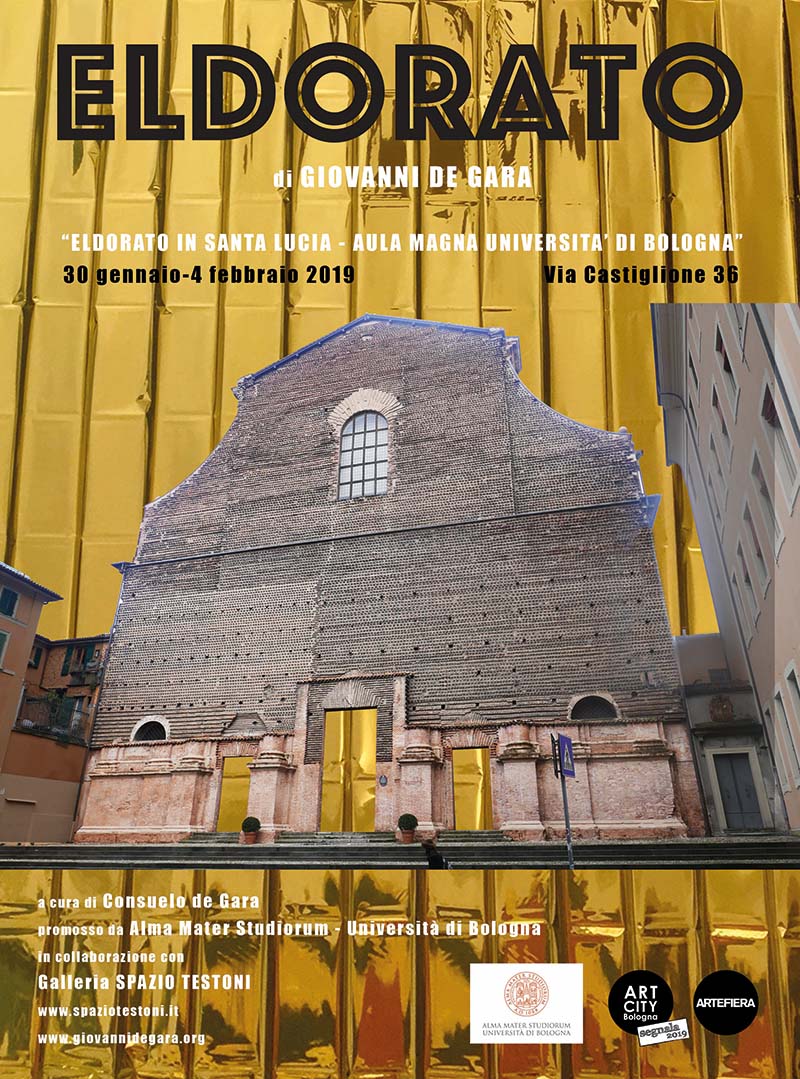 Former Church of Saint Lucia - Aula Magna of the University of Bologna | via Castiglione 36 | www.giovannidegara.org
John de Gara, Eldorato in Saint Lucia
a cura di Consuelo de Gara – promoted by Alma Mater Studiorum – University of Bologna in collaboration with Galleria Spazio Testoni
Eldorato It is a project that tells the illusion of this millennium: the existence of a land of gold, where there are health and future to anyone who can reach it.
In his installations site-specific Giovanni de Race covers with gold blankets isothermal, commonly used for the rescue of migrants, the doors of churches, public buildings and other symbolic spaces, to promote a profound reflection on the welcome theme to each individual, regardless of race, gender and creed.
Eldorato Abbey is the party of San Miniato al Monte (Florence) last June 2018, then in Pistoia, Lampedusa, Agrigento, Bologna, Palermo, Marghera, Venice and Parma, and now, on the occasion of Arte Fiera Art City 2019 back to Bologna on the doors of the former Church of Saint Lucia, Today Aula Magna of the University of the Western world's oldest, to communicate that the places of art and culture can only have golden doors that open to accommodate all who wish to become part of a community, like that of Bologna that for centuries spread of peace and beauty culture in the world.
Opening Wednesday 30 January 2019 hours 20,30
From 30 January to 4 February 2019 visible from the outside 24 hours 24
INFO:
Gallery
SPACE TESTONI
Via D'Azeglio 50 – 40123 BOLOGNA
Such. +39 051371272 – 051580988 – 3356570830
info@spaziotostoni.it – www.spaziotetsoni.it
READ INTERVIEW WITH JOHN DE RACES OF GIORGIO SU Espoarte FRANCESCA:
https://www.espoarte.net/arte/eldorato-la-terra-promessa-e-un-fake/