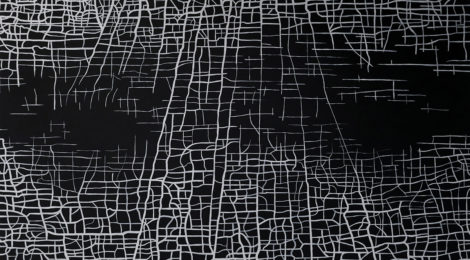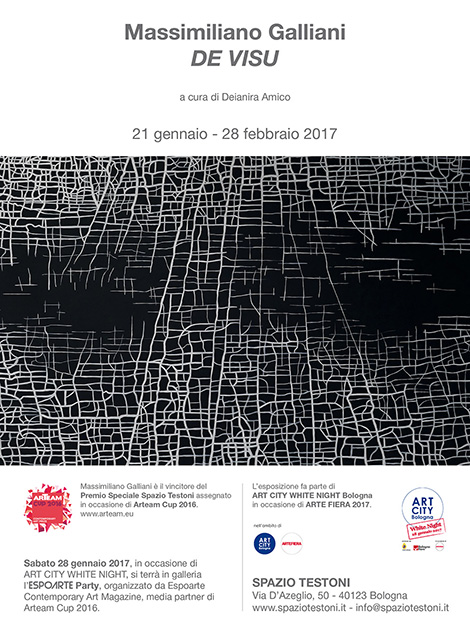 Gallery SPACE TESTONI in Via D'Azeglio 50 a Bologna, at ART FAIR 2017, It is pleased to present DE ALL the first solo exhibition in Bologna Massimiliano Galliani, Prize Winner Special Space Testoni all'ARTEAM CUP 2016.
In the halls of the gallery artist she has three groups of works, that explore different themes developed by 2012 to the 2016:
Roads of Time, idea was born from the analysis of cracking on the face of the Mona Lisa, the masterpiece by Leonardo Da Vinci.
Reflection on canvas, The detailed reproduction of the image to oil reflected a subject you are faced with a polished black canvas mirror.
Drawing and pencil, pencil portraits that "notice" to be drawn from the artist's hand.
The exhibition will be visible from 21 January to 28 February 2017 as part of ART CITY Bologna.
Saturday 28 January 2017, in occasione di Art City White Night, from 20,30 all 24,00 will be held in the gallery'ESPOARTE Party, organizzato da Espoarte Contemporary Art Magazine, average Arteam CUP partners 2016.
Massimiliano Galliani
Montecchio Emilia (RE), 1983
In 2002 he graduated in Stage designs for art at the Art Institute of Parma Paolo Toschi. In 2008 he graduated in New Technologies for the Arts at the Academy of Brera, Milan. In 2010 he graduated in Film Direction at NUCT, New University of Cinema and Television of Rome.
Painter, photographer and video maker, He has participated in solo and group exhibitions, among which we highlight "Three of Hearts" (Romberg Art Gallery, Roma, 2010 and Galleria Antonio Battaglia, Milan, 2010), "50 auction of chairs author" (Triennale di Milano, Milan, 2013) ed "Inside Beauty. Beyond Classic" (Castle Villa Smilea,Montale, Pistoia, 2013, edited by Nicholas Bonechi), "LSDT – Roads Of Time " (Spazioborgogno, Milan, 2015), "Destrutturazioni – Maurizio Galimberti, Massimiliano Galliani, Michelangelo Galliani " (Gerra space, Reggio Emilia, 2015), "A Bigger Splash" (Glenda Art Futura Consulting, Milan, 2015).
It has made video installations and interactive installations as "Nativity Apparent" (Church of San Carlo, Reggio Emilia, 2011), "The Room of Saint Lucia" for the group exhibition "The Art of Middle Time" (Palazzo Montevergini, Syracuse, 2013), "7 Works of Mercy" (Palazzo Casotti, Reggio Emilia, 2013, on the occasion of European Photography and the Princely Palace, Correggio, Reggio Emilia, 2013), "Ink" (Palazzo Casotti, Reggio Emilia, 2014, on the occasion of European Photography).
In 2012 opened CromaKinema, video-camera photographic studio based in Tortiano Montechiarugolo (PR).
He lives and works in Montechiarugolo (PR).
Massimiliano Galliani is the winner of the Special Prize Testoni space allotted for Arteam Cup 2016. www.arteam.eu
Catalog: Vanillaedizioni
Text Deianira Friend