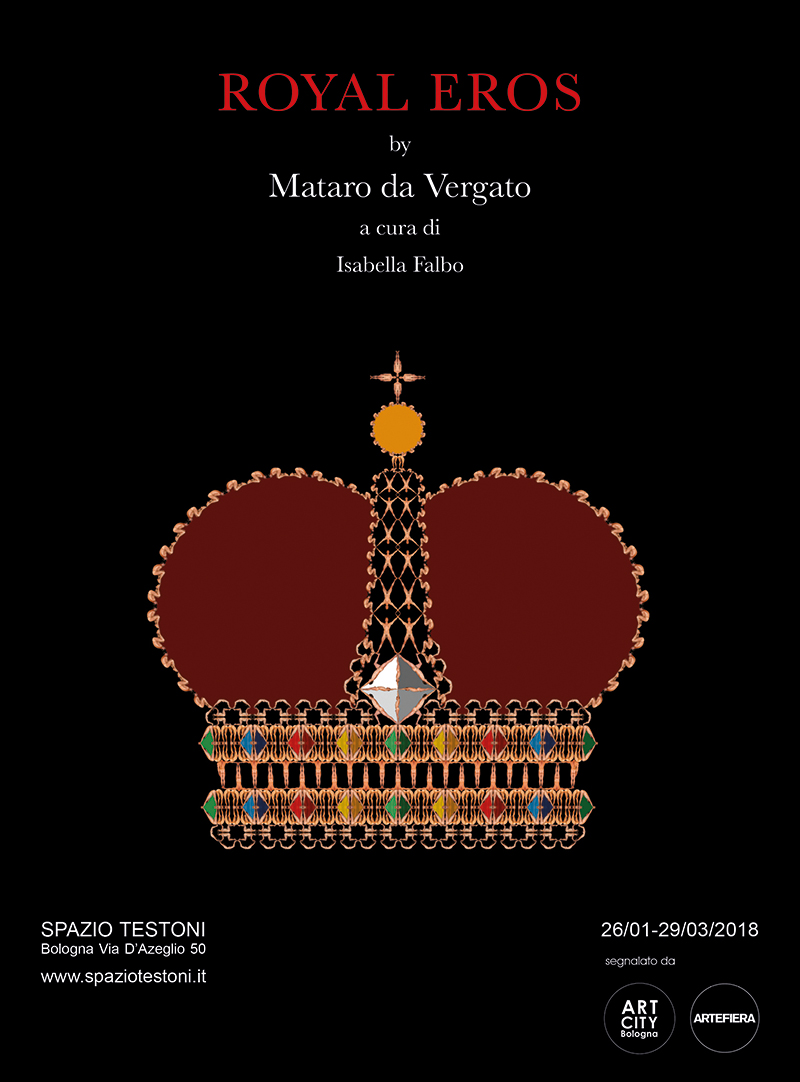 Opening
Friday 26 January 2018
20,30 – 22,30
At the gallery SPACE TESTONI in Via D'Azeglio 50 a Bologna, Friday 26 January 2018 from 20,30 all 22,30 inaugurates the staff Mataro from Vergato Royal Eros by Isabella Falbo.
Ten years after the show Holy Eros (Sacred Love), presented a preview in 2008 the Galleria Spazio Testoni, back in the same space Mataro from Vergato, passionate artist with a rich career, with new project Royal Eros (Love royal).
"Consisting of twenty-five works created with the technique of digital painting, This project required a lot of processing time - from 2008 to the 2018 - and the recovery of meticulous craftsmanship in dialogue with the technical innovation. With Royal Eros Mataro from Vergato continues his research on the body as sculpture, as architecture, as Art. After his "sanctification" in Holy Eros, in this shows the body-performative, captured by the photograph to fit within the two-dimensional space of the picture, It is again used as a constructive element: a bio-block from the analytical naturalism high definition, repeated to create geometric and decorative motifs, that they make precious jewels from the great figurative strength and excellent quality ..."
Isabella Falbo
(from the catalog text Royal Eros)
Stefano Armed aka Mataro from Vergato, name of art that comes from his paternal grandfather and the country where he was born. He graduated at the Art Institute and the Academy of Fine Arts in Bologna.
After various artistic experiences in Italy and abroad as a performer and artist during a period of life in New York, in 1990, the crucial encounter with the computer.
Start looking for a personal relationship between photography, He cultivated since the early studies, and the computer, the middle just appeared on the world stage. Thus was born the Period Digital Chart (1990-1996) and then to Digital Painting (from 1996 until today): the photograph (black and white and digital) like drawing of reality and the computer as a modern palette. A return to the pictorial representation of reality as in the art of the past, but through a technical and creative process very contemporary and current.
All limited edition works are made on different media: from lambda print on the canvas or paper under resin, from digital fresco plexiglas, from PVC to lightbox.
He has exhibited in prestigious spaces, both in Italy and abroad, among others, for the International Art Biennale in Venice 2011 and the Leslie Lohman Museum in New York 2012.
He has worked with international artists and curators such as: Enrico Baj, Nino Best, Luigi Ontani, Peter Weiermair, Philippe Daverio, Vittorio Sgarbi.
His digital works have become part of important public and private collections.
In parallel artistic activity has gone through and still takes care of the various performing arts with roles as a professional researcher in the guise of various classical dancer and choreographer, actor and theater director, citharist singer and creator of video art, confirming an artist of great versatility.
Lives and works in Bologna and Milan.
The exhibition is accompanied by the catalog Royal Eros with texts by Mataro from Vergato, Isabella Falbo and Alberto Giulio Gioia, It is marked by Art City – Art Fair, It is part of the events of Art White Night City and will remain on display until 29 March 2018.
Gallery
SPACE TESTONI
Via D'Azeglio 50 – 40123 BOLOGNA
Such. +39 051371272 – 051580988
M.ph. +39 3356570830
info@spaziotestoni.it
www.spaziotestoni.it
Opening time:
Tuesday to Friday from 16.00 all 20.00
Saturday from 10,30 all 13,00 and from 16,00 all 20,00
Sunday, Mondays and other times by appointment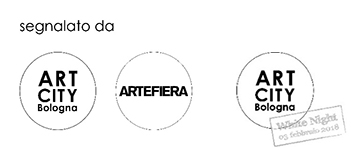 Special openings
Friday 2 February 10,00-20,00 non stop
Saturday 3 February 10,00-20,00 non stop – 20,30-24,00 Art City White Night
domencia 4 February 10,00-20,00 non stop