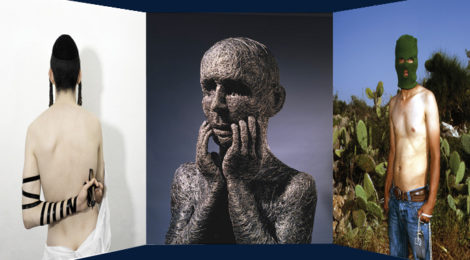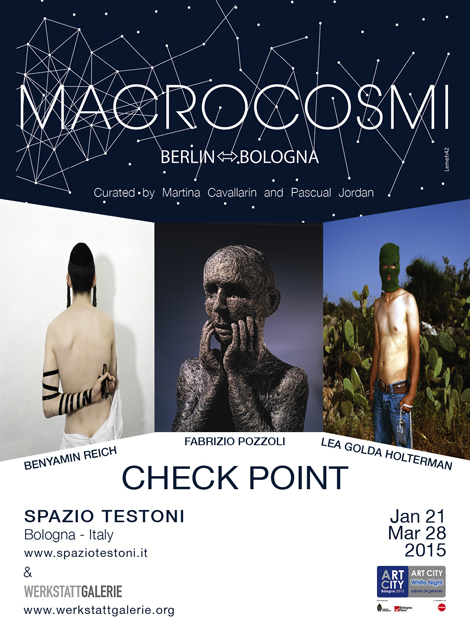 The Gallery SPACE TESTONI from Bologna, in Via D'Azeglio 50, in collaboration with Werkstattgalerie Berlin, on the occasion of ART FAIR 2015 It presents the works of three artists in dialogue on the Israeli-Palestinian situation, which for more than half a century is the fulcrum around which revolve the vicissitudes Mideast and beyond.
With the works of metal wire Fabrizio Pozzoli, Milan sculptor, and photographic images of Benyamin Reich and Lea Golda Holterman, Both Israeli and present on Berlin's contemporary art scene origin, the exhibition CHECK POINT It proposes a reflection on the current situation and the different cultures that coexist in those territories to the continuous search of a difficult form of cohabitation, hampered by violence and economic imbalance.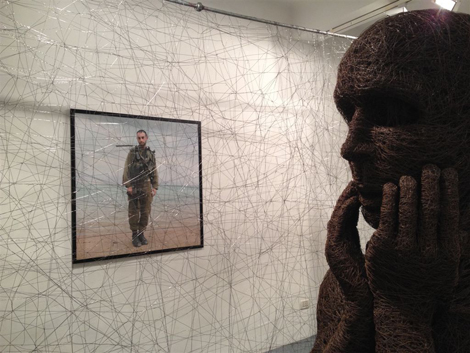 For this exhibition Fabrizio Pozzoli He has created an installation site specific shaped cage, that welcomes visitors at the entrance of the tunnel forced to cross touching "The missing hours", a large human figure made of iron wire oxidized with both hands juxtaposed to the face, sculpture of his series Oversize. This work immediately communicates the theme explored by this exhibition: our difficult understanding of the events taking place in the Israeli-Palestinian territories and throughout the Middle East, often the result of our lack of knowledge of the motivations of social and cultural conflicts that cross them and that unfortunately now also investing several countries and far, as sadly they demonstrated the serious own French events of the first days of 2015. A "cage" which therefore also contains our thoughts, our concerns and at the same time protects us illusory otherness, the cultural diversity, thus separating from each other, but that also constitutes a Check Point:, a necessary step toward understanding what surrounds us, that this exposure is controlled metaphorically by the photographs of the two artists proposed by Werkstattgalerie Berlin, Benyamin Reich e Lea Golda Holterman, placed outside the cage, through which are still visible and show us scenes of everyday life of the two peoples Israeli and Palestinian, telling their conflicts intersected with their traditions and their cultures.
The German capital is the location for young artists from all over the world and in particular many young Israelis. This migration is intensifying more and more, and now it is as if it were a "counter-diaspora" of young Israelis to Northern Europe, looking for their family and cultural origins, but also looking for more security and a different way of life from what the Jewish orthodoxy and Islamic radicalism often requires them in everyday life and in particular on their free artistic expression.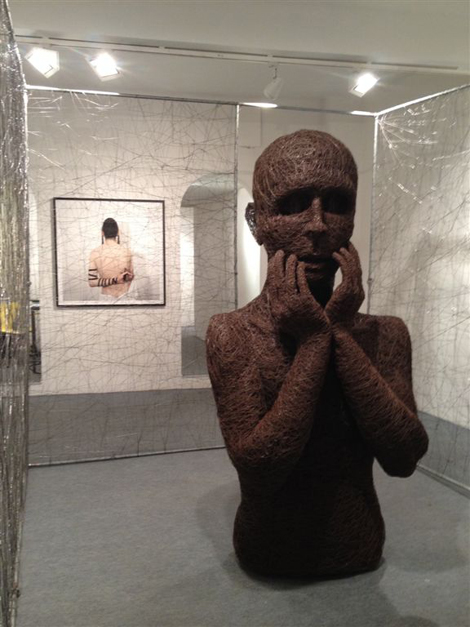 Fabrizio Pozzoli
Born in 1973 a Milano, where he lives and works. Alongside scientific studies experience as an assistant production designer. Research in the graphic and writing and will form the courses of Cartoon School in Milan, where it obtained precise anatomical representation of the figure capacity. Since the late nineties works in three-dimensional metal sculptures, made of iron wire, and from 2005 He began working on large sculptures, focusing attention on his face and his physiognomy characters. From 2007, appears in his work the rust factor obtained by natural oxidation. His personal "OVERSIZE" the 2008 Montrasio at the Art Gallery in Milan, It is enhanced by shots of the great master of photography Gianni Berengo Gardin, that shows him at work in his studio, and appears in the catalog "Gianni Berengo Gardin - Reportrait", between the characters in the world of the culture of the '900 immortalized by the distinguished photographer. In 2010, for the exhibition "waited", The Heroic fury at the gallery in Milan, He presents his sculptures in dialogue with works by Gianfranco Ferroni. In his exhibition "Prodromes", Cavaciuti at the gallery in Milan 2013, He made a series of figures in fio iron and materials and everyday objects and other new works created by drawing with rust anthropomorphic figures on thin iron sheets. The catalog that accompanies this exhibition is enriched by photographs made in his study by the Austrian photographer Andreas H. Bitesnich. For the "Braids" exposure, in 2014 at the gallery The Heroic fury of Milan by Alberto Mattia Martini, He continues its dialogue with the masters of contemporary photography, in this case with the work mosaic made with Polaroid film by Maurizio Galimberti.
Fabrizio Pozzoli has exhibited in Europe, America e Asia.
Benyamin Reich
Son of the Rabbi of a major Yeshivah (rabbinical school) and raised with other 10 brothers, observing his shots you immediately realize how Reich has not actually removed the strong traditions of the previous life, often keeping them at the center of his art and explaining them to the public in its own way. The art of Benjamin Reich aims to unite the aesthetic tradition and allows you to rediscover the ultra-Orthodox world, its mysteries and at the same time its simplicity, and a different look at those men and women who seem to be light years away from modern society.
Education: National School of Fine Arts, Paris; Ma'ale School of Cinema, Television and the Arts, Jerusalem; Bezalel Academy of Art and Design, Jerusalem – Selected Solo Shows: 2013 "Who shoots Reich? A German Winterreise " – Werkstattgalerie, Berlin, "Jud Suess" - Kunstverein Schwetzingen; 2012 "Jud Suess" – Kunstverein Worms: 2008 "Forsaken Me?" – The Jerusalem Artist's House; 2004 "Here and Here" – Haifa Museum of Art; 2003 "Black Stars" – the Gallery of the Beit Berl College of Art, Tel Aviv - Selected Group Exhibitions 2014 The Euronautes " – European Month of Photography Berlin, Galerie Kornfeld; "Art of Believing" – St Nicolaas- chapel, Netherlands; 2013 "Die Asporas Project" – P8 Gallery, Tel Aviv, Israel; 2011 "History" – Jewish Museum; 2010 "HomeLessHome" – Museum on the Seam, Jerusalem; 2009 "Cockeye" – Gal-On Art Space, Tel Aviv; "The Age of a Different Re-action" – David Gallo Gallery, Berlin.
Lea Golda Holterman
1976, currently he lives and works in Tel Aviv and Berlin. She graduated from the Bezalel Academy of Arts and Design in Jerusalem. His photographic research ties into social and national identity, disclosing the hidden sides of each character's portrait and the dark tendencies of a nation. The artist has exhibited at the Museum for the Arts of Vienna, the Boghossian Foundation in Brussels, al Museum for Modern Art di Amsterdam, al Tel Aviv Art Museum,the Haifa Art Museum and the Israel Museum in Ramat Gan. Education:2003 – 2008 B.F.A Bezalel Academy of Art and Design, Graduated with Honor and Excellency. Work: Haaretz Magazine – Private column photography and writing – Man Vouge. Awards: 2011 Nominated Deutsche Börse Photography Prize; 2010 Nominated The Merck Award, 1st Prize, Arle Photography Festival, 1st Prize, IPA Photography, 2009 Hasselblad Award Best 100 Photographers; 2007 Sharet Foundation, IPA award; 2006 Honor Bezalel Academy of Art and Design. Selected Solo Exhibitions: 2012 Fred Gallery, London (future); 2011 orthodox eros brussle,orthodox eros, Lithuinia; 2010 Orthodox Eros, Arle Photography Festival, France, Chapter one, Ramat Gan Museum, Israel; 2009 Orthodox Eros, Dada Post gallery, Berlin, Germany, 2009 Exile Coker college, Art Department, Hartsville, U.S.A, 2008 D&A Gallery, Israel, 2007 Tova Osman Gallery, Israel. Selected Group Exhibitions: 2012 Grid Festival, No Fashion Please! Museum for the Arts, Vienna, 2011 Boghossian Fundation, Brussle, Minitire Museum for Modern Art, Amsterdam, 2010 Museum of Photography, Darmstadt, Merck Prize (Nominated), 2009 Museum of Tel Aviv, Photography group show, (curator: Nili Goren), Haifa Museum of Art, History of Violence, (curator: Hadas Maor), Hasselblad Photography Awared (10 Best Photographers for 2009); 2008 IPA, The Angels, USA; 2007 The OpenMuseum of Photography, Tel-Hay, Israel.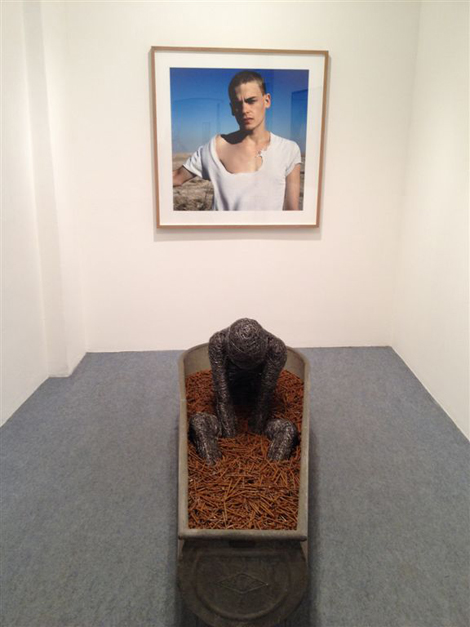 With the exhibition CHECK POINT, that opens 21 January 2015 all 19,30 in Via D'Azeglio 50 and it will remain on display until 28 March 2015, Gallery SPACE TESTONI Bologna, in collaboration with WerkstattgalerieBerlin(www.workshop gallery.org), participates in the project MACRO COSMI-orders of another kind, a dialogue between Bologna and Berlin, by Martina Cavallarin and Pascual Jordan, coordination with the Foundation Forum der Kulturen and the patronage of the German Embassy in Rome, in collaboration with the Bologna Academy, CUBO Centro Unipol Bologna, Bologna Life theaters, Galleries in Bologna, NGBK new society of Fine Arts, Regional Association of Berlin Galleries.
The event is part of ART CITY 2015 – ART CITY White Night di sabato 24 January 2015 – sponsored by the city of Bologna in collaboration with Bologna Fiere at ART FAIR 2015.