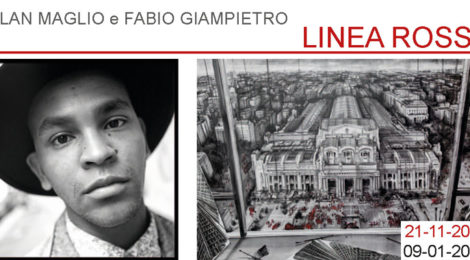 The exhibition RED LINE of Alan Maglio e Fabio Giampietro, from 21 November 2015 to the 09 January 2016 the TESTONI SPACE Gallery in Bologna in Via D'Azeglio 50, It presents photographic images of Alan Maglio depicting the faces of people originating from the Horn of Africa arrive in Italy for several years and now fully integrated in our social fabric, and the word "Eritrea", which derives from the greek erythros, it means rosso, indicating those areas which geographically bordering the Red Sea.
The theoretical framework of this exhibition is based on the idea of ​​the subjects familiarity with the author of their photographic portraits and urban spaces represented by Fabio Giampietro in his paintings, spaces and places that welcome these cultural identities metaphorically identified in red traces that emerge from the monochrome landscape and intended to represent the evolution towards a new urban and social fabric with the added value of multiculturalism.
The aesthetic imagination offering the two artists therefore differs from that mainstream proposed by the media and record on the current phenomenon of mass immigration.
Alan Maglio (Milan, 1979)
Photographer and filmmaker, with his work has participated in several exhibitions in Italy and abroad. Its hybrid language between portraiture, street photography and documentary often covers issues related to cultural identity. He has made two films: "milan Central – Stories from the Train Station" (2007) e "Asmarina" (2015).
Fabio Giampietro (Milan, 1974)
Through his unique technique, paints subtracting color from the canvas, It expresses a strong, intense figurative painting.
He is known in particular for its exciting "Vertigo", He has presented his works in solo and group exhibitions in Rome, Milan, Bologna, Venezia, Shanghai, Miami, Berlin and Toronto.
The exhibition RED LINE will be completed during the opening night with some Polaroid photographs printed on paper that Alan Maglio realize impromptu involving the public in the room-studio specially prepared with his equipment in the tunnel.