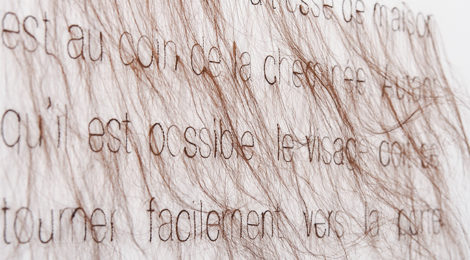 SPACE Gallery TESTONI Bologna
Via D'Azeglio 50
ELYSE GALIANO
Apolline, Constance and other ...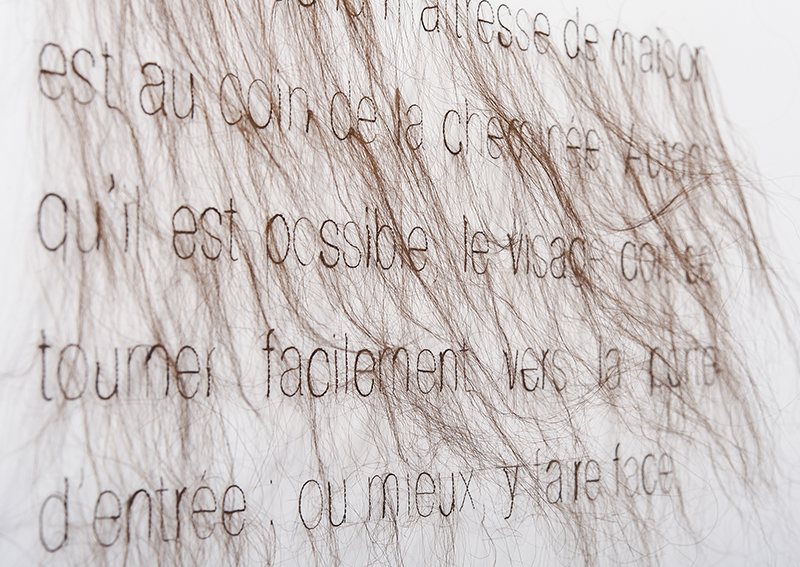 The gallery SPACE TESTONI in Via d'Azeglio 50 a Bologna, He presented the first solo exhibition in Italy of ELYSE GALIANO, French artist who lives and works in Brussels, "Apolline, Constance and the others ... ", which it was inaugurated on Saturday 25 November 2017 on the occasion of World Day Against Violence Against Women.
Elyse Galiano creates large canvases embroidered with long female hair that reproduce in different languages, texts of protocols taken from old manuals of good manners dictated to women. These manuals have spread across Europe since the eighteenth century, dictating rules for the education of young girls and, more generally, for all women in their role as wives and mothers. The works accurately describe the behaviors that women had to follow to keep your house properly, how to welcome guests and also how to behave in the most intimate private bedroom in the presence of her husband. This portrait of the model wife and mother puts into question the role of women in public and private spheres, highlighting women's issues than the power in general mainly held by the male gender.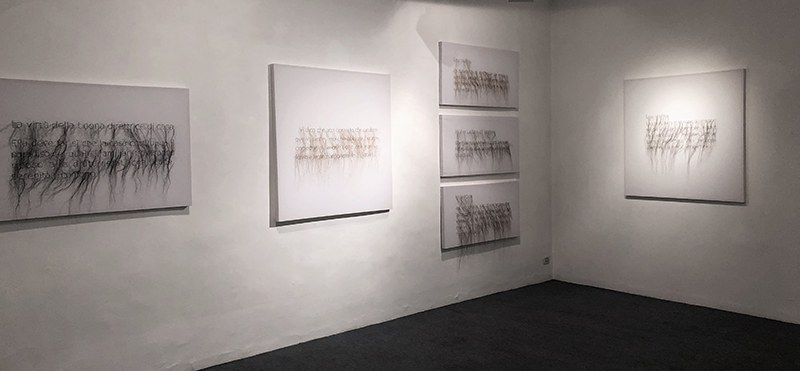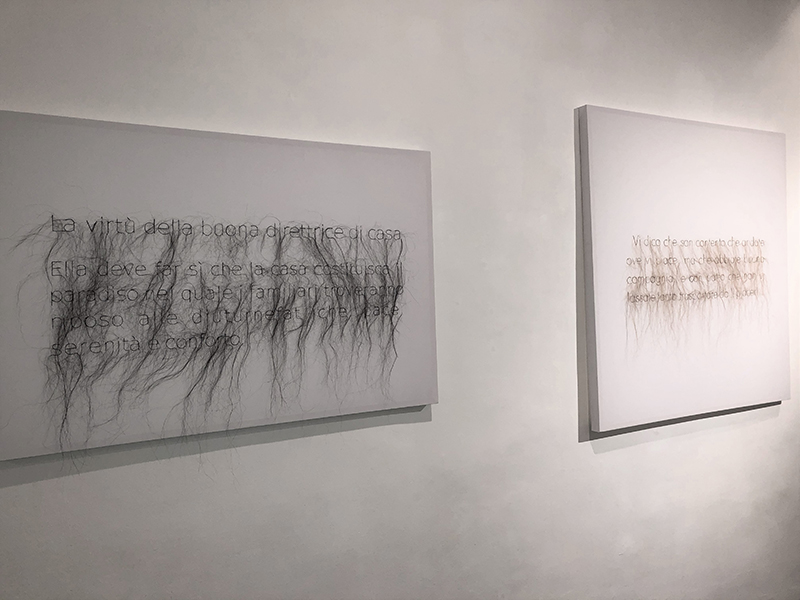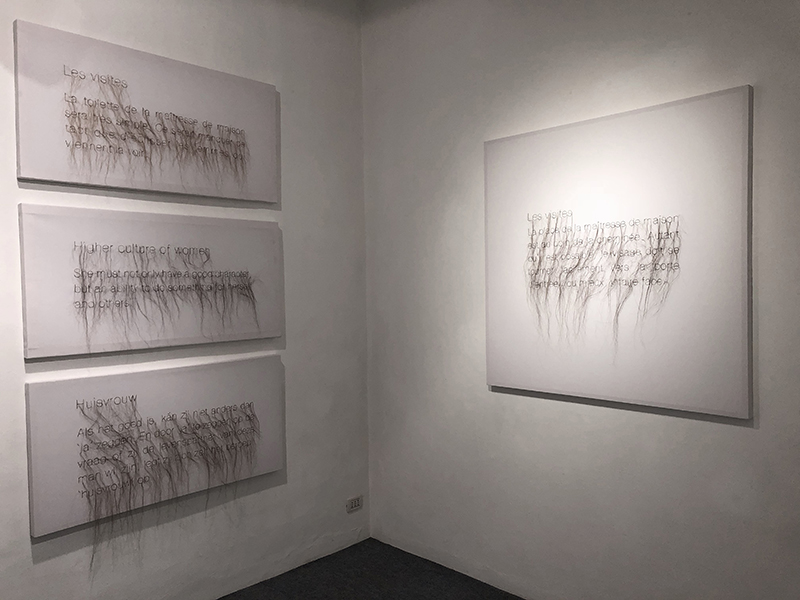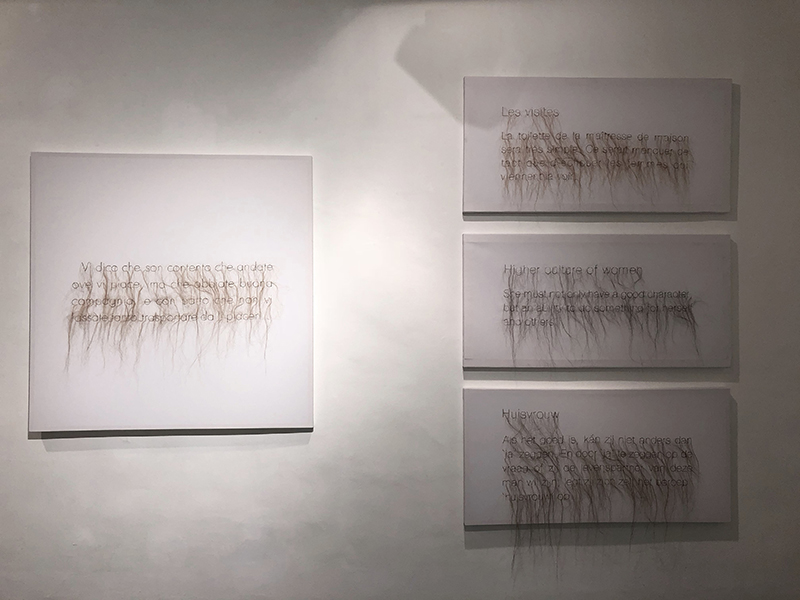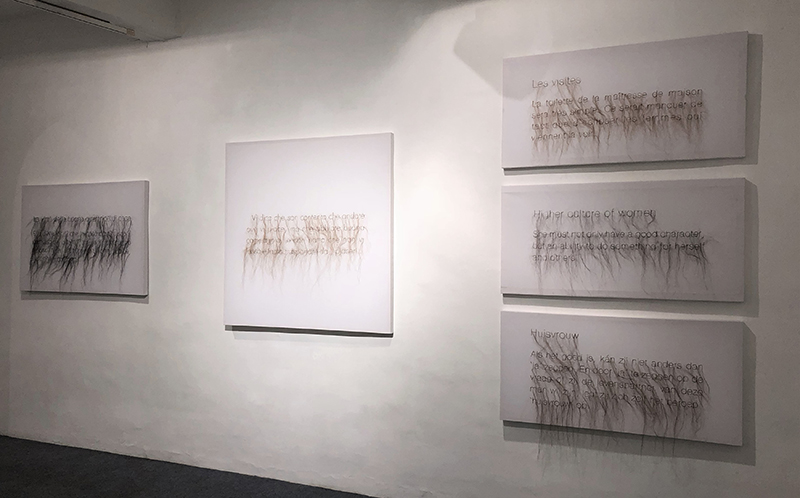 The use of female hair with which Elyse Galiano realizes his work points out that since ancient times is commonly seen as the absolute symbol of the woman. A series of large canvases are placed on the walls of the first room of the gallery along with an installation built with sculptures made with women's hair various shades of color to interpret the physicality and spirit of womanhood.
At the center of a large oval wooden lounge inside with a shock of female hair forming a framework that aims to represent and enhance the symbol of women's beauty.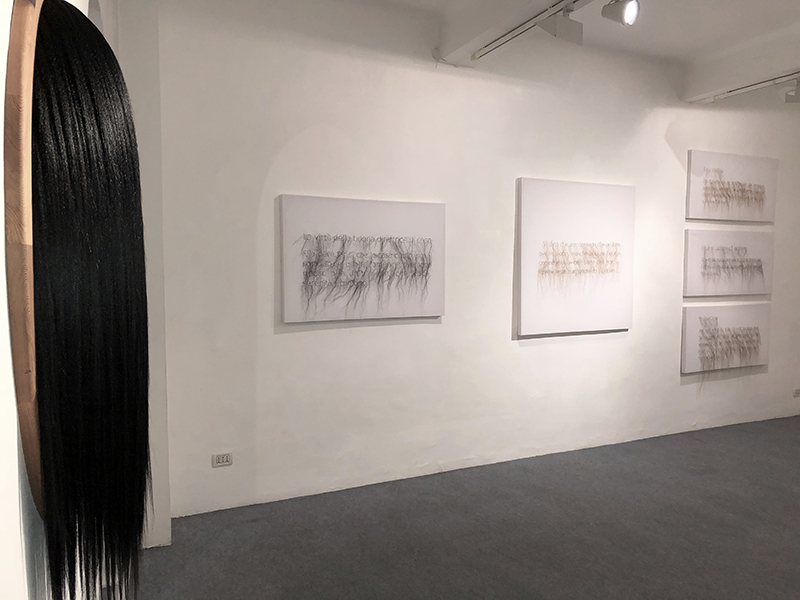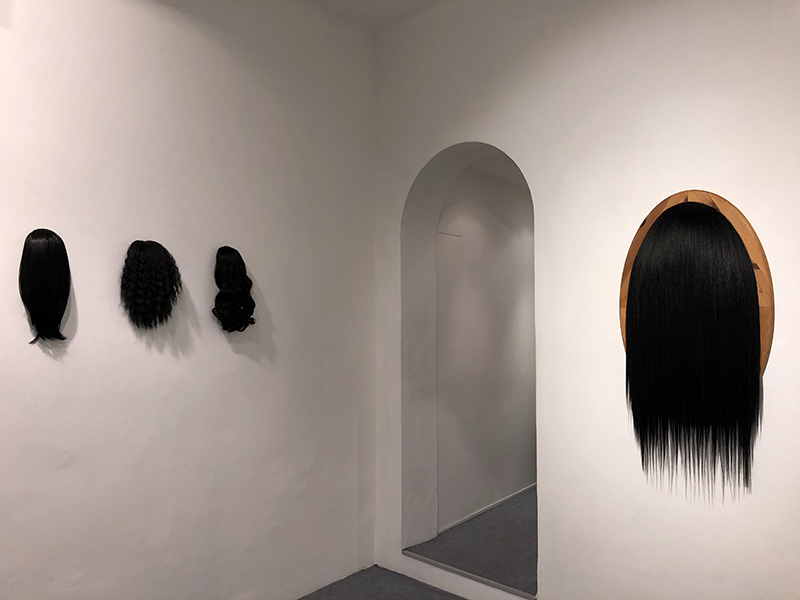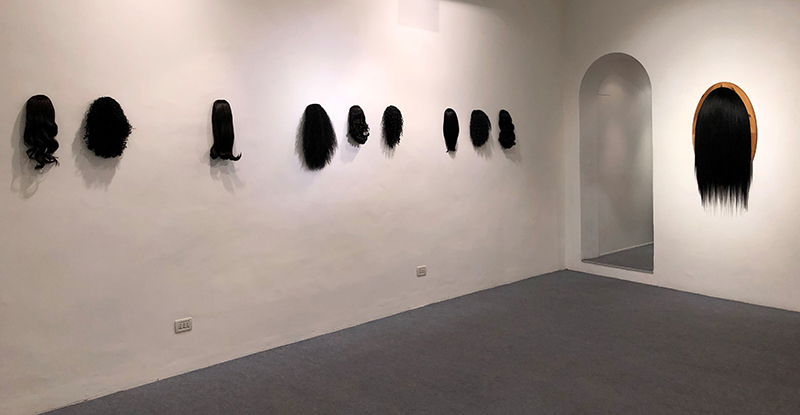 In the second room of the gallery, a light nightgown, that even in the privacy hide the roundness of her breasts beneath long hair braids, it is adjacent to a romantic rose lamp with embroidery and fringes reading of tawny hair. Stylish embroidered handkerchiefs and framed inside of white boxes recall the precious works created by the skilled female hands, activities that embroidery which over the centuries have been delegated almost exclusively women. A mirror reflects the gentle and suffused room environment and reports on it engraved and back illuminated these words in French:
After a hard day endured by your husband,
greet him with a smile and desire to please him.
Do not greet with your complaints and problems,
Topics of conversation are more important than yours.
And remember that he is the master of the house
tel you that as, it will always exercise his will
fairly and honestly.
"After a hard day your husband,
receive him with a smile and with the desire to please.
Do not greet him with your complaints and problems,
his topics of conversation are more important than your.
And remember that he is the landlord
and as such will always exercise his
with justice and honesty "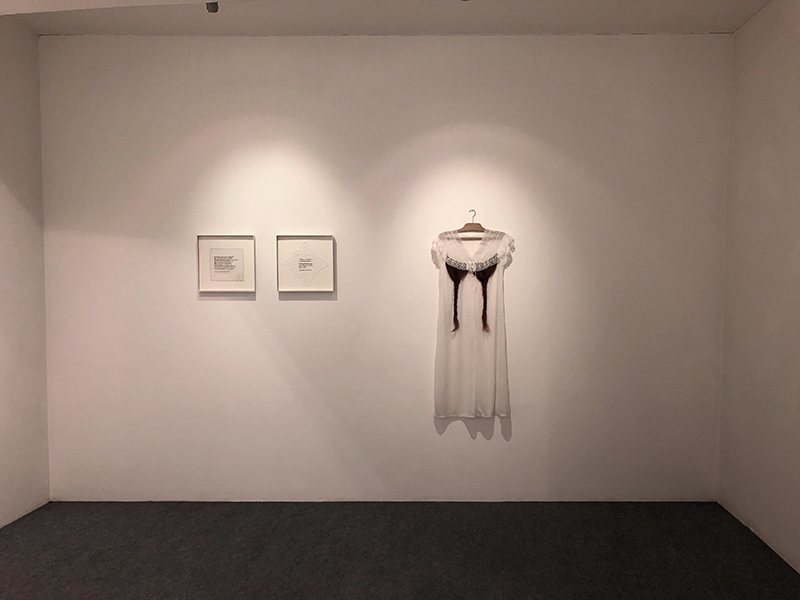 In the third room a large installation reproduces a cascade of hair that seem to penetrate the outside wall invading the hall to the center, how to represent the determination and feminine strength.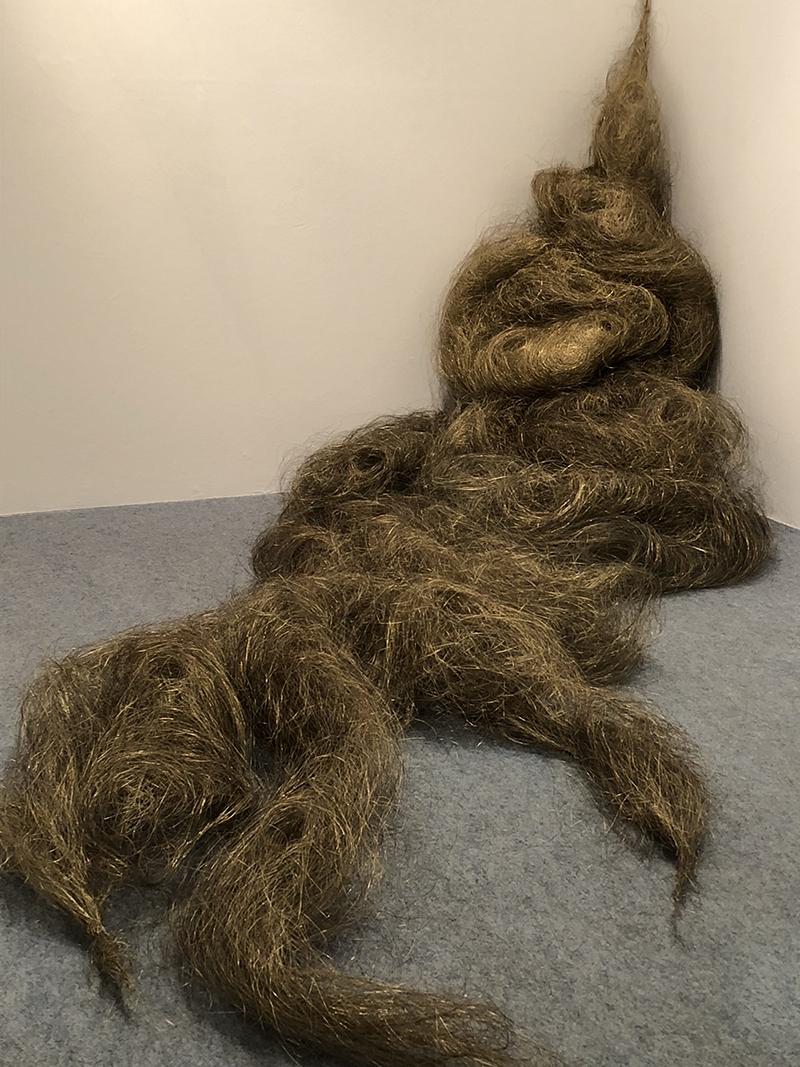 In the last room, a video in which the artist is sitting resumed in a comfortable chair in the middle of a forest while embroidering a white handkerchief, He is spending so her quiet time interrupted only dall'intermittente passage of a train that recalls the frenzy of the world around, but she faces with Wisdom of loneliness.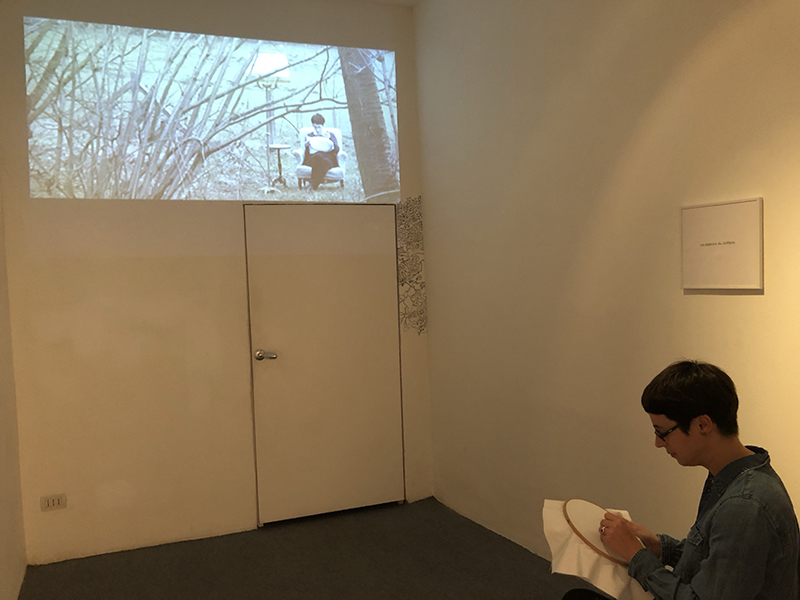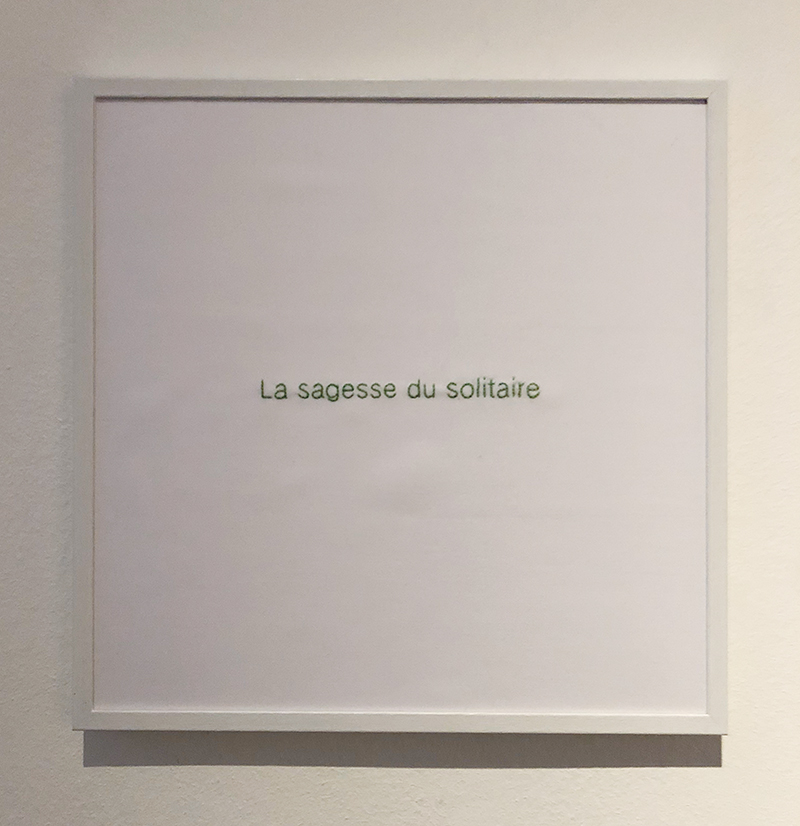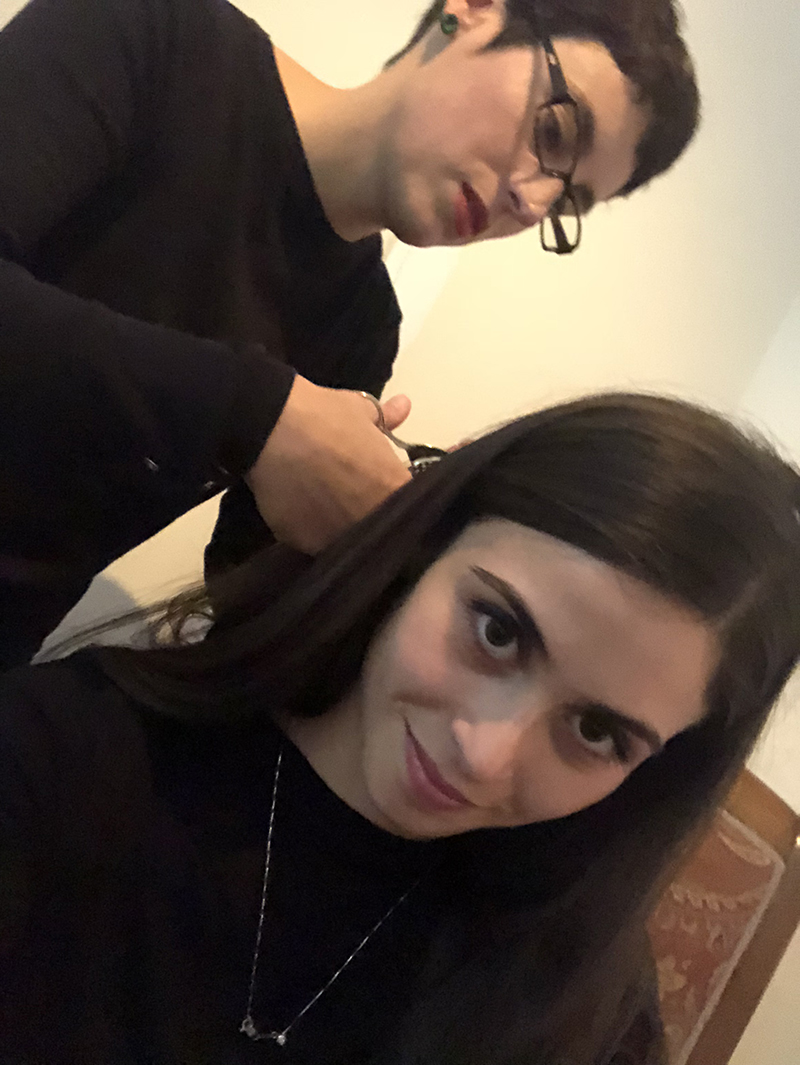 Elyse Galiano was present at the inauguration and asked all the women present to give her a lock of their hair with which he made especially for them a little work that has been delivered to the finissage of its staff the 13 January 2018.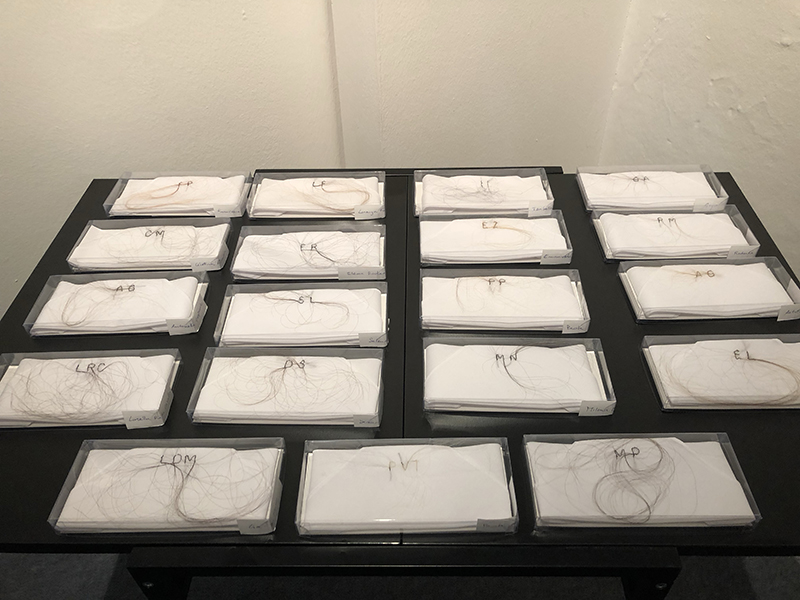 Elyse Galiano was born in 1980 Schiltigheim in France, lives and works in Brussels.
Make art studies and forward them was a natural obviousness for Elyse coming from a family of designers and teachers.
While he is studying Applied Arts in Strasbourg (France), Elyse has acquired research methods and analysis. So then he studied at the Beaux Arts in Besançon (Fr) They have allowed it to experience its practical imaging, installation, wherein the fabric assumes an important part. Add to that the embroidery technique that emphasizes his work in a staging of words between memory and history.
Next to her embroidery presented at Art Truc Troc (Be), Art'mazone (Be), the cultural center Marchin (Be) e ASCAP Montbéliard (Fr); Elyse installations have been exhibited during the Nuit Blanche in Brussels (Be), during Hélécine Sentes (Be), and the premium "Dauphine" Dauphine Paris school (Fr), among others …
Elyse has also worked on the production of sets at the Royal Theater of La Monnaie in Brussels (Be) and the show "Sweet & Swing" to Guimbarde Theater in Charleroi (Be). It is also a set designer for Lily & Company.
Elyse also runs embroidery workshops for ACT Studio and is also engaged in the visual arts schools Mus-e Belgium.
Gallery
SPACE TESTONI
Via D'Azeglio 50 – 40123 BOLOGNA
Such. +39 051 371272 – 051 580988
M.ph. +39 3356570830
info@speaceiotestoni.it – www.spaziotestoni.it
Opening time:
Tuesday to Friday from 16.00 all 20.00
Saturday from 10,30 all 13,00 and from 16,00 all 20,00
Sunday, Mondays and other times by appointment